Enerpac Hydraulics, Hydraulic Cylinders, Pumps & Valves at Hydraulics2U
Hydraulics2u is the one stop shop for all your Hydraulic and Pneumatic Systems and Components including Enerpac. We offer a wide range of products from basic maintenance requirements to cylinders, pumps and all necessary accessories to create complete systems to suit your needs. Technical data is provided for most products on the relevant pages to ensure you choose the right products but if you need more information or its not provided on site please contact us.

Our staff have many years experience in application and system design and operation so we are happy to provide any help you may need in selecting the most suitable components for your application from ultra high pressure testing equipment, 700 BAR Enerpac Hydraulics or low pressure pneumatic or hydraulic systems please contact us.

We can also provide complete hydraulic and pneumatic systems for specific applications and can design and build complete machines with full control systems in any special materials that you need. If you have a system or machine requirement please e-mail:
enquiries@hydraulics2u.co.uk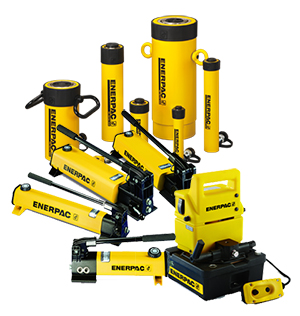 ENERPAC PROMOTION
25% DISCOUNT ON ENERPAC PLASTIC HAND PUMPS
THE LIST INCLUDES:

P391, P392, P141, P142 and the PUJ1201B ELECTRIC PUMP

GO TO OUR PROMOTIONS PAGE OR CLICK THE LINK BELOW:
Enerpac August Promotions
ALL OFFER ITEMS IN STOCK FOR IMMEDIATE SHIPMENT
____________
STAINLESS HYDRAULICS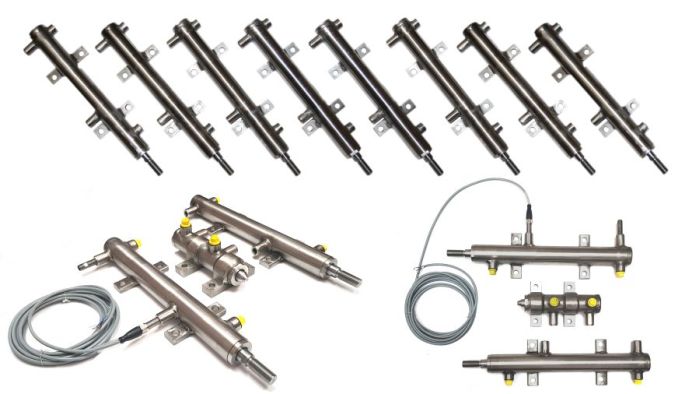 Special Stainless Steel Cylinders

50mm Bore x 30mm Rod x 500mm Stroke in 316 Stainless with Position Sensors front and rear. These Foot Mounted stainless hydraulic cylinders were used in a pharmaceutical application with high precision control requring the small 40mm Bore 50mm Stroke Clamping Cylinders, again with dual Position Sensors.

______
SPECIAL HYDRAULIC BEARING PRESS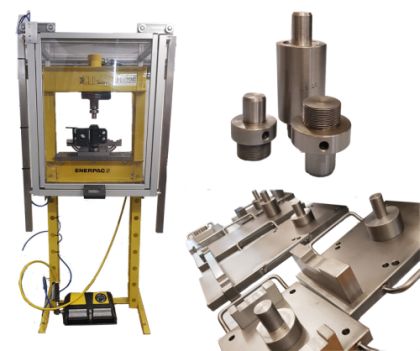 Safety Interlock Hydraulic Press
20 Tonne Safety Interlock Hydraulic Bearing Press

Interchangeable tooling for a range of products and bearings
Pneumatic safety interlock on sliding guard door
Perspex press guard
Base and top toolings
Air/Hydraulic Foot Pump

This 20 tonne hydraulic press offers a completely safe and efficient solution to pressing a variety of bearings and bushes into a large range of components. Designed and built by us, this high precision and fast acting press increases the productivity and time for completing many components, quickly and efficiently.

Delivery
We aim to make delivery in 24 to 48 Hours but if an order will be later than 5 days we will e-mail you to let you know and give you the option to cancel the order. To contact us regarding an or order or its delivery please e-mail: sales@hydraulics2u.co.uk.
Please note we have a £15.00 minimum order value

.

Please Note:- All goods ordered for payment by invoice will be shipped after payment has been made unless ordered on an approved 30 day account.

If you require goods urgently please e-mail sales@hydraulics2u.co.uk and we will confirm when you will recieve delivery. Please mark your e-mails with high priority.
Buy Enerpac, Hydraulic and Pneumatic Components and Parts, UK from Hydraulics2U